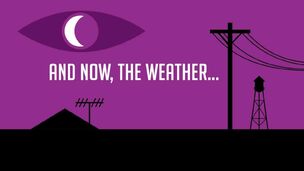 The weather is a segment of the Night Vale Community Radio show hosted by Cecil Palmer. It consists of a song or instrumental piece.
Cecil announces each weather segment by saying something like "And now the weather" or "I take you to the weather" (except when he is physically incapable of doing so due to problems like a water failure, but in other dire situations he remembers to announce it even while fleeing from the station). When the weather is over, he sometimes greets his listeners and describes what happened during the weather. Often, what happened was the off-stage resolution to whatever impending crisis the town was facing. In at least one episode that ended with an unresolved crisis, Cecil explicitly comments on his surprise that the crisis was not resolved during the weather.
Apart from those segues, the weather has only been mentioned a few times. When Dana Cardinal is projecting herself from the otherworldly desert into the radio studio, she mentions Cecil's weather announcement and then adds, "The weather is beautiful here."[1] Steve Carlsberg tells a story that involves him chatting with Cecil about the weather, saying, "I remember it was the weather because we had to stand in awkward silence for a bit as we waited for the music to stop playing."[2] In the episodes "The Retirement of Pamela Winchell" and "The University of What It Is" Cecil invokes the weather purposefully to distract other citizens.
Local meteorological events, such as doppelganger-causing sandstorms[3] and noisy sunsets,[4] are covered elsewhere in the broadcast. The shades of the sky are forecast in the Shades of the Sky segment.
The radio station in Desert Bluffs has a similar weather segment,[3][5] and when Kevin and Lauren Mallard took over Cecil's show, they continued to include it.[6]
Year One
Edit
Year Two
Edit
Year Three
Edit
Year Four
Edit
Year Five
Edit
Year Six
Edit
| # | Episode | Song Title | Band/Artist |
| --- | --- | --- | --- |
| 111 | Summer 2017, Night Vale, USA | "Andromeda" | Airøspace |
| 112 | Citizen Spotlight | "Try Try Try" | Rachael Sage |
| 113 | Niecelet | "If We Live" | Disparition |
| 114 | Council Member Flynn, Part 1 | "Song For Myself" | Bears with Eagle Arms |
| 115 | Council Member Flynn, Part 2 | "TMI" | Josey |
| 116 | Council Member Flynn, Part 3 | "Animal Skin" | Bryan Dunn |
| 117 | eGemony, Part 1: "Canadian Club" | "Lost Every Thing" | Mary Epworth |
| 118 | eGemony, Part 2: "The Cavelands" | "Glitter" | Charly Bliss |
| 119 | eGemony, Part 3: "Love, Among Other Things, Is All You Need" | "Turn Into It" | Jamey Browning |
| 120 | All Smiles' Eve | "Fast Talker" | aj & the good intentions |
| 121 | A Story of Love and Horror, Part 1: "Barks" | "Riches and Wonders" | Eliza Rickman & Jherek Bischoff |
| 122 | A Story of Love and Horror, Part 2: "Spire" | "Fire Drills" | Dessa |
| 123 | A Story of Love and Horror, Part 3: "Frances" | "Pieces and Pieces" | The Rough and Tumble |
| 124 | A Door Ajar Part 1 | "Lake Full of Regrets" | Devine Carama featuring River Greene and Devin Roberts |
| 125 | A Door Ajar Part 2 | "Source Decay | Holy Sons |
| 126 | A Door Ajar Part 3 | "Clockwork Family" | Dan Warren |
Live Shows
Edit
Bonus Episodes
Edit
Remixed Episodes
Edit
Note: Episodes with a "(R)" are episodes that were repeated during a hiatus. The contents of the episodes are exactly the same, with the exception of the music and weather being used.
References
Edit